As consumers gain more control over their healthcare dollars and decisions, providers recognize the need to deliver patient experiences (PX) that win trust, build loyalty, and bolster their brand. In healthcare, as in retail, creating exceptional patient experiences requires close examination of every touchpoint. It calls for timely issue resolution. It also requires ongoing feedback—the kind that comes directly from patients and illuminates opportunities to improve.
Yet as Forrester reports in their February 2019 report "How To Build A VoC Program In Healthcare," healthcare organizations (HCOs) are lagging in their efforts to measure and enhance the customer experience (CX). With antiquated feedback collection methods and a lack of a comprehensive measurement framework, HCOs must adopt more modern customer experience management (CEM) systems that provide real-time data and actionable insights in order to meet the evolved (and heightened) expectations of patients.
Forrester defines three stages of Voice of the Customer (VoC) maturity and explains why HCOs should strive to achieve the top level as a state-of-the-art program. This is why it's so important to be selective when choosing a CEM program. Many vendors primarily offer a software as a service (SaaS) model—which will mine data for low-hanging fruit and quick fixes, but won't provide enough actionable insight to drive program growth past the advanced (or even foundational) stage.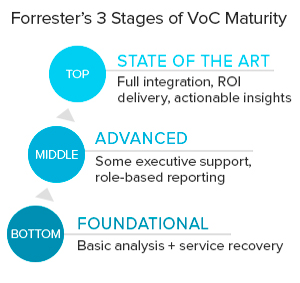 To really drive change, organizations need an end-to-end CEM vendor that combines platform technology and professional services to provide continuous, real-time feedback and state-of-the art insights. Let's take a closer look at our take on Forrester's characteristics of top-level VoC maturity:
1. Achieve full data integration
HCOs require a measurement strategy that encompasses solicited and unsolicited channels, across touchpoints, in order to understand the full scope of the patient experience. From AI-powered text analytics to unsolicited online reviews and contact center interactions, every piece provides a more holistic view in order to drive meaningful change across the enterprise.
2. Prioritize improvement projects
Patient feedback doesn't just help improve the experience on a micro-level—it can also be used to determine where to make major investments. By analyzing things like consumer and business impact, feasibility, and risk, CEM programs should help ensure the right efforts are being prioritized.
3. Justify business value
In addition to helping direct financial investments, state-of-the-art CEM programs provide sophisticated value calculations. By showing how PX data correlates to financial results, HCOs can then demonstrate platform and program ROI to stakeholders.
4. Create a culture that embraces + demands VoC
Employees want a job with purpose. In fact, our research shows that rewarding work is what matters most to them. When employees are highly engaged in a CEM program—and have access to insights—they can see the tangible impact they have and be motivated to deliver better patient experiences.
5. Include VoC as a part of the design process
A state-of-the-art CEM program isn't static—it evolves and grows. According to Forrester, more healthcare firms are aligning the voice of the customer and design—using customer insight to make changes to their VoC programs.
Not all CEM programs look the same
An SMG 2018 report on CX professionals shows only 27% are highly satisfied with their current CX program—meaning there is huge room for improvement. Successful programs deliver both technology and services that help the entire organization drive meaningful action, increase loyalty, and improve business performance. That's why in this age of consumer-centric healthcare, it's more important than ever for healthcare organizations to include VoC data in their strategic planning and daily decision-making process.
For more on why measurement is crucial in shaping the patient experience, read the report: Why an insights-driven CEM program is vital in today's customer-centric healthcare.
SPONSORED CONTENT