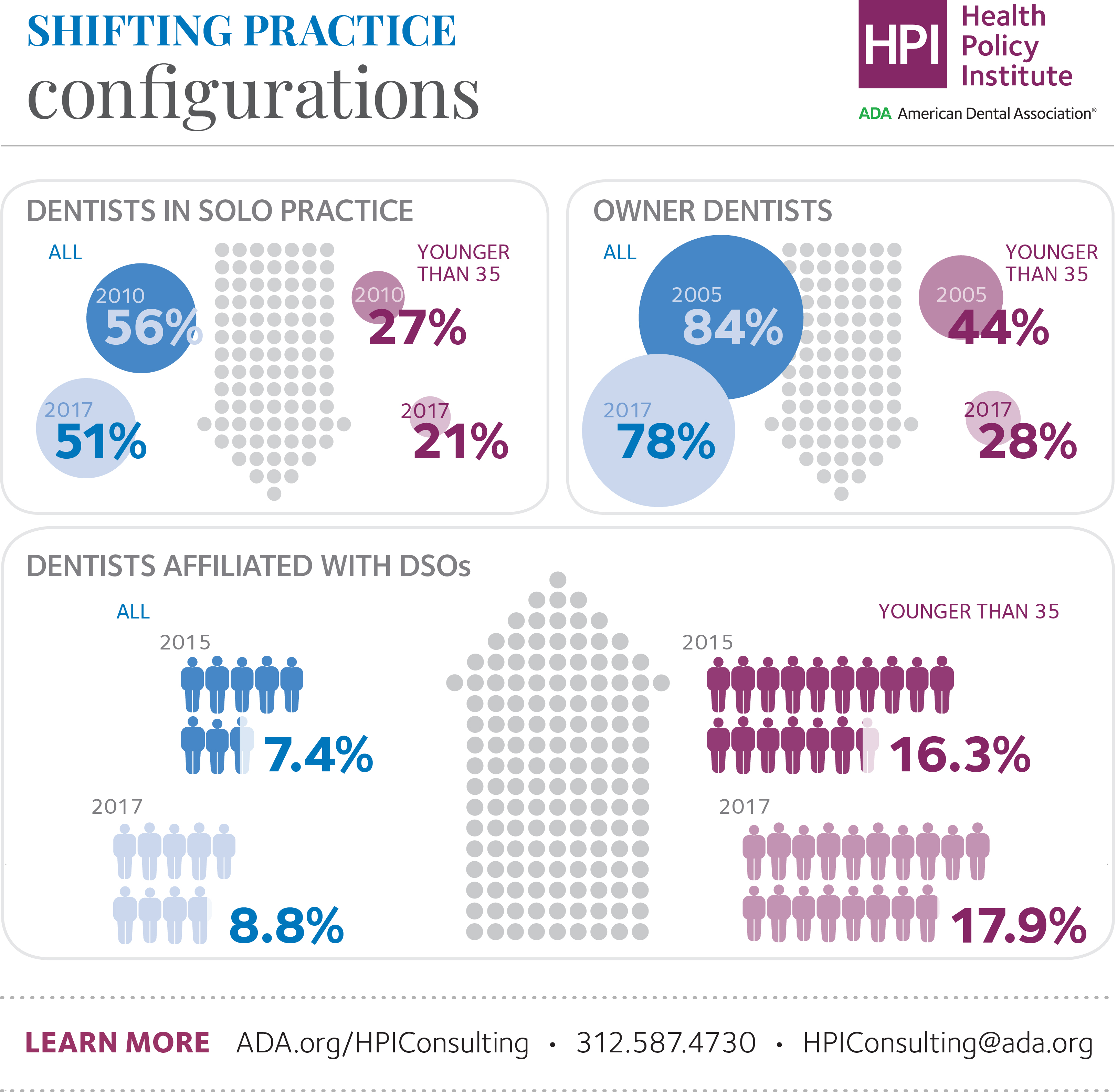 Traditional solo practices are becoming less common as dentists gravitate toward group practices, a trend that is likely to continue.
The ADA Health Policy Institute has found that fewer dentists were in solo practices in 2017 (51%) than in 2010 (56%), a trend even more evident among dentists ages 35 to 44, from 49% in 2010 to 40% in 2017, and dentists younger than 35, from 27% in 2010 to 21% in 2017.
Practice ownership has also declined, with 78% of dentists owning their practice in 2017 compared to 84% of dentists in 2005, with a sharper decrease among dentists under 35, from 44% in 2005 to 28% in 2017. In contrast, group practice affiliation has risen. In 2017, 8.8% of U.S. dentists were affiliated with a dental service organization (DSO). Among dentists younger than 35, that share was 17.9%.
The ADA Health Policy Institute is a thought leader and trusted source for data and research on critical issues affecting the U.S. dental care system. Bring new perspectives and possibilities to your business strategy by exploring topics such as:
Impactful legislative conversations: What do short- and long-term effects look like?
"New normal" in dental care utilization and dental spending: Where are current trends leading?
Evolving workforce: What is the shift in demographics and how does that affect dental practice structure?
HPI Consulting can provide clients such as DSOs and large practices with insights and a deeper understanding of the dental industry through custom research and personalized speaking engagements. Learn more at ADA.org/HPIconsulting.


SPONSORED CONTENT