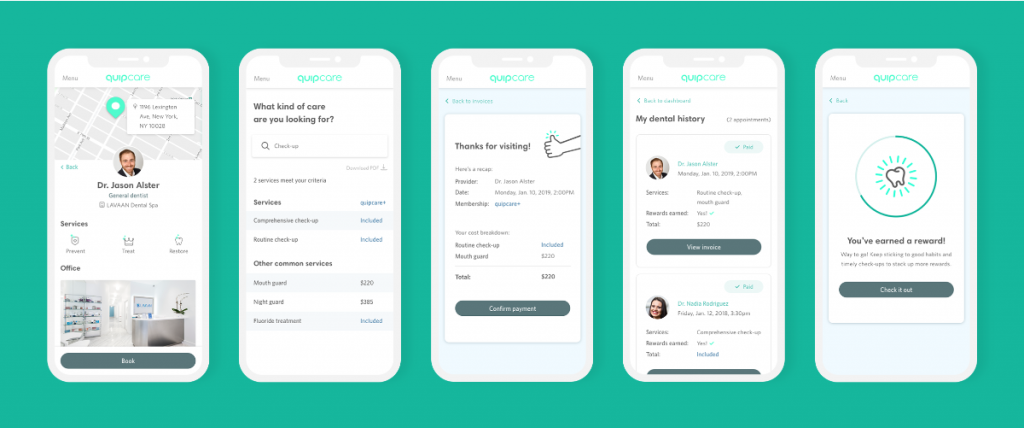 ​quip​ today announced the launch of quipcare, a new platform that provides a transparent, affordable and convenient way to access and pay for quality professional dental care through a simple app. Since launching the first oral care subscription with an American Dental Association accepted electric toothbrush and toothpaste, quip has become the largest and fastest growing oral care company of its kind, attracting millions of members and a network of tens of thousands of dental professionals. With quipcare, quip continues to reinvent the industry by offering a first-of-its-kind, end to end consumer-focused oral health solution that includes a growing range of personal care products and now professional dental services.
"People aren't getting the care they need. ​One quarter of Americans​ don't have dental insurance and, even of those with insurance, ​one third​ haven't visited their dentist in over a year. The current dental care and insurance systems can be confusing, opaque and expensive, and the process of booking, getting and paying for care is inconvenient," said Simon Enever, Co-Founder and CEO of quip. "quipcare is solving many of these pain points that deter people from getting the professional care they need. We've spent years making at-home oral care more simple, affordable and enjoyable for millions of people. Now, we are excited to apply that same ethos to reshape professional dental care with a simple modern app."
Whether someone is insured and hit their annual maximum, are looking for treatments not covered under insurance, or don't want a monthly plan, with the free quipcare app, members can browse, book and pay as they go for dental care services — from basic check-ups to fillings and crowns — within quip's curated network of dental professionals at set rates 30-40% less than average rates in their area. As an alternative to traditional dental benefits, members can also upgrade to quipcare+ for $25 per month, which includes two preventative check-ups and annual x-rays for $200 less than on pay as you go. quipcare also helps members focus on proactive care and prevention by helping them manage their treatment records and offering rewards for timely check-ups.
"Great oral health is achieved by combining a healthy at-home routine with consistent professional care. quip is now the first consumer oral care company to offer both personal and professional care, making it easier and more enjoyable for people to take proper care of their mouths." says Dr. Jeffrey Rappaport, Director of Care at quip."Dental care premiums aren't regulated like they are in healthcare, meaning profit margins of traditional plans can be big, patient rates are high and provider reimbursements low. With quipcare, we help patients pay providers more directly, so they can pay less ​and ​the provider can keep more, leading to better health outcomes and happier patients and professionals."
quipcare is rolling out in New York City this summer, and will expand across the United States in 2020 with an expanded professional network of high quality individual practices and small and large dental groups. quip will continue to evolve the platform with additional partnerships, services, plans, and payment options to cater to different individual and employer needs.
For more information, visit quip.