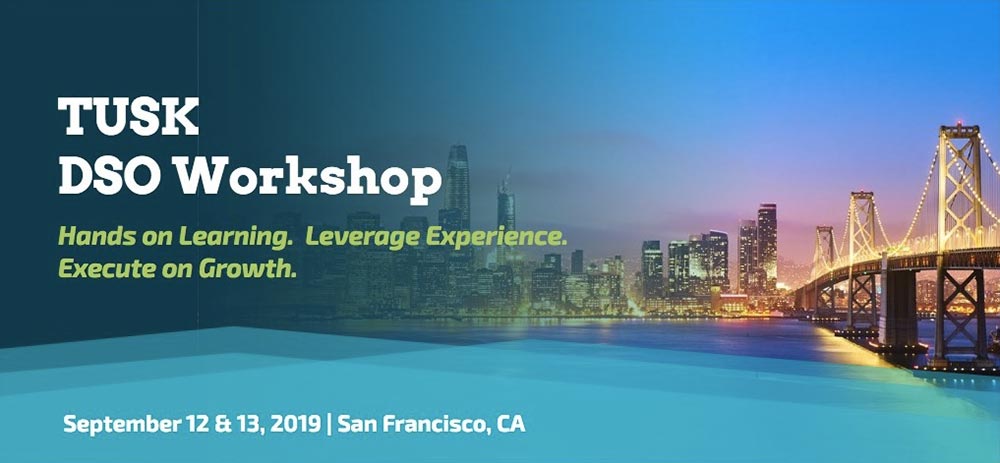 This isn't another conference. The TUSK DSO Workshop is a hands-on workshop limited to 100 attendees, with no more than two people per company. The workshop is already 50% sold out, so now is the time to register to attend this important event.
USE DISCOUNT CODE DSONEWS ON
YOUR REGISTRATION AND SAVE $100
Do you own or operate a dental practice or group? Do you find yourself trying to focus on too many priorities? Struggling with implementing your growth plan? Having trouble jumping to the next level?
THIS WORKSHOP IS FOR YOU
Bring your numbers. Bring Your Challenges. Enjoy TUSK Insights.
You'll participate and be actively involved
You'll add new tools to your toolbox
You'll build a Monday action plan for the return to your dental practice or group
KNOW YOUR NUMBERS
These are the metrics and KPIs you should be focused on
Benchmarking and "line of sight" reporting
Revenue standards and utilization rates
Daily, weekly, monthly, quarterly — historical vs forward-looking
GROWTH PLANNING
Modeling and executing your strategy
Acquisition vs start-up
Metrics for success
Avoiding failures of launch and/or integration
CENTRALIZATION
Building a platform for scale
When to do it and what roles?
Contrasting investment vs increase in valuation
Leveraging centralization to gain an edge on acquisitions
ACCOUNTING AND LEGAL
Coordinating the structures behind your strategy
Dashboards, chart of accounts and reporting metrics to live by
The impact of legal structure on your flow of cash and accounting needs
Mission critical items for your contracts
EQUITY
Where and when to use it in order to increase your value
As currency through growth through acquisitions
Attracting and retaining key associates
At different levels of your legal structure (DSO, JV, PC, etc.)
LEADERSHIP
The who and how behind extraordinary results
Framework for creating and sustaining results
When and how to recruit non-clinical executives
Salary ranges, roles and responsibilities
DETAILS
Dates and Times:
September 12 – 13, 2019
Thursday 8 AM – 5 PM and Friday 8 AM – 3 PM
Location:
The Westin St. Francis (Union Square)
335 Powell St, San Francisco, CA 94102
Cost:
$995 per person (use discount code DSONEWS to save $100 on your registration, making it $895. Limited to two people per business.