At a recent conference, I found myself locked in a fascinating conversation with the manager of a mid-sized DSO based in New England. Our banter evolved into an in-depth assessment of everything that was and was not working with her company.
The group was busy enough to continue adding practices. So busy, in fact, that some areas had enough volume to open practices across the street from each other. Thanks to their growth, they were becoming the premier group in their state.
From purely a dollars and cents perspective, everything was great.
But there were some chinks in the armor, she feared.
New Growth, New Decisions
The manager soon learned that the gray areas, the dilemmas that emerge from success, don't immediately show themselves. They come more into focus with every new location.
As a result of their growth, this group's patient base was becoming more diverse. This manager was unsure if she had a proper infrastructure in place to sustain the growth she and her leadership team were forecasting.
In order to ensure that your group is best serving patients across every practice, here are the three most important infrastructure areas. Focus on these, and you'll be able to serve every demographic, leaving no patient behind.
Staffing for Success
Consider the following two employees.
One is a master multi-tasker. She takes on six jobs at once and knocks them out before the close of business each day. She's always polite, but not much of a relationship builder. She'd rather ensure the office is running at an efficient clip than spend a lot of time catching up with patients.
The other is a true conversationalist. She's been with the practice for 20 years, knows several generations of patients (and their extended families), and always shares her new favorite recipes with patients.
Both of these employees are loved by patients. Both are loved by the team. Each loves what they do. And, yet, their successes manifest in different ways.
Employee No. 1 thrives in a busy atmosphere. She needs to be constantly engaged. When the practice slows, she gets antsy looking for things to do. She feels uncomfortable with too much downtime.
Employee No. 2, on the other hand, prefers a more leisurely pace. She can handle a busy schedule, but she truly thrives in a steady practice where there's time to catch up with every patient during intake and checkout.
You'd be doing No. 1 a disservice by putting her in a slow practice with folksy patients. Likewise, putting No. 2 in a fast-paced atmosphere would take away from her strength of fostering trust and gently disarming patients.
Every practice has its own personality, which is largely driven by the clientele. Don't be afraid to shuffle team members around. Play to their strengths; set each person up for success. And most importantly, match them to the identity of your practices.
Deliver Treatment Patients Want
A few weeks back I was speaking with an office manager who had completely changed his practice's business model. Despite his wife being the dentist, they had flipped to 80 to 85% hygiene.
Why?
They live in an affluent part of the country with significant demand from the local university. After running the numbers, they found that they could run a high-volume hygiene program and increase revenue dramatically.
Now, they only do restorative work about one-and-a-half days per week. And, despite increasing the number of daily appointments, they still turn away double-digit new customers every month.
This calculated gamble paid off, but it was risky — they are a single-practice operation.
And here's where you have value as a multi-practice organization: not every location's line of services needs to be homogeneous. You have the luxury of bending treatments around your patient base.
Tailor your offerings to the community.
Are there a lot of transients in the area? Push hygiene.
Have an older patient base? Work restorative.
Run a practice where all the young families live? Emphasize pediatric and general.
You're never going to speak to 100% of the patient base. That's okay — your luxury as a DSO is the ability to keep patients in the family.
A new patient calls about needing a new crown, but that specific location doesn't do implants? Coach the team to refer the patient to the sister practice that does handle crowns. Better yet, tell the patient exactly who to ask for and even talk up the doctor's acumen.
Not every practice has to be a generalist, nor do they need to be a specialist. Play to what your community wants, and then be prepared to direct the few outliers elsewhere.
Tailor Marketing to Your Patients
You've got the right teams in place. Every practice is tailored to its physical location. Now market to all your patients — past, present, and future.
So what to market?
Everything.
Have an incredible team you're proud of? Include them in your marketing, like a welcome video— you'll immediately disarm patients and create a sense of familiarity.
Wanting to get the most out of your CEREC? Toss it in your marketing — be sure to tell patients what it is and why they should be excited for it.
Running a whitening special? Sponsoring some local little league teams? Open a new location in an underserved area?
Marketing. Marketing. Marketing.
Get out in front of the community in every possible way you can, and use an automated marketing software like RevenueWell to do it.
Yes, you can manually run the same marketing efforts for every practice in your group, but why would you?
Automated marketing efforts allow you to control every practice under a single dashboard.
You can segment out different audiences and run different campaigns for each of your practices. You do not have to be a group who casts a wide, catch-all net.
To Grow More, Understand Patients More
In order to sustain growth throughout your group you must invest in knowing your patient base. Once you understand your audience, then everything falls into place.
You can staff properly, cater your treatments appropriately, and strategically market each location — using tone, medium, and value props that your audience desires.
When looking to sustain growth and bolster your infrastructure, start with gaining a firm understanding of every demographic your practices cover.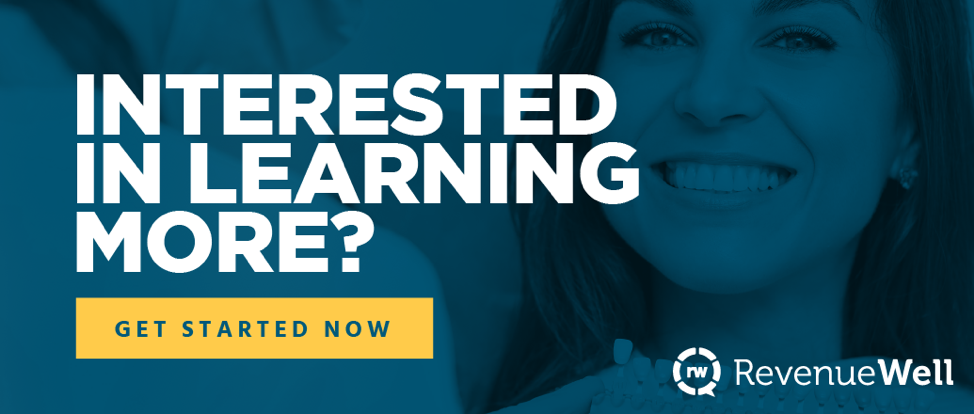 SPONSORED CONTENT