I've had the pleasure of sharing dinner with and visiting the offices of Amol Nirgudkar of Patient Prism. We share many views around the importance of industry education. Recently, I had lunch with some of his team that included a tour of their studio, where they film interesting videos with DSO thought leaders. Amol believes education comes first and wants as many people as possible to learn from these videos. To help in this regard, DSO News is going to begin regularly sharing the amazing content produced by Amol and his team.
Patient Prism is a dentistry-focused call analytics platform. It helps marketers obtain better insight on their marketing spend and enables managers to track lost opportunities while providing timely feedback, coaching and training.
Below are some questions I've posed to Amol with his answers.
Q. One of the opening topics at our recent dinner with the Dykema DSO team was the question of "why we do it." You had the perfect summation. Please tell readers why you wake up every day and do what you do.
Dentistry changes lives. I wake up every day feeling grateful that our solution allows more people to see a dentist and have a better quality of life. When you can make a positive difference, and can measure the results, the amount of fulfillment you feel is exponential. With Patient Prism, we see that positive difference not only in the practices that we touch, but in the patients that they serve. We help practices achieve growth and profitability, and we help patients have a better customer journey, a better patient experience, and that lets them achieve optimal oral health and functionality.
Q. You can probably explain it better than me. What is the elevator pitch for Patient Prism?
Patient Prism uses artificial intelligence, machine learning, and American coaches to analyze every new patient phone call and send the information back to the dental practice within an hour. We include coaching tips from top industry leaders so the front desk team can call back those people who didn't book, use the phrasing we provide, and convert them on the second try.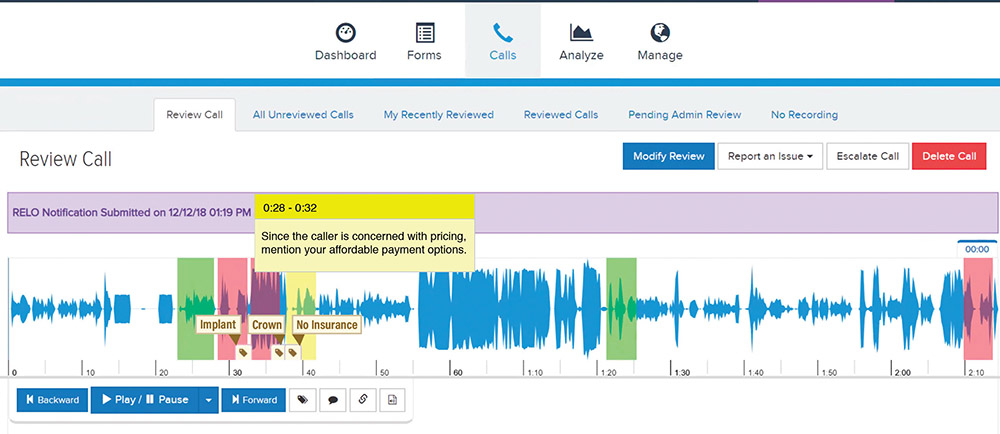 Q. Where did the idea for Patient Prism come from?
It came from the need to have fast, actionable data that can truly help convert more new patient phone calls. My co-founder, Mike Spiessbach, and I owned a dental marketing company a few years ago and we used a well-known call tracking company to see the results of the leads we drove to our clients. The problem was the data didn't tell us what we needed to know. We still had to listen to the calls or read long transcripts to figure out what was happening. No one has time to do that, so we developed two utility patents for the technology Patient Prism now uses. CallViz Analyzer is a visual representation of new patient calls that pinpoints call-handling concerns and provides coaching tips. The CallViz Cloud is a keyword cloud that aggregates the services and insurance information spoken by new patient callers. Dental practices us this data to generate more effective digital ads, social media content, and website optimization. They also use it to make operational decisions, such as expanding services or insurance plan participation.
Q. Knowing your biography, I know that you are a man who likes solving for big challenges. What is a big challenge you'd like to solve for customers in the coming year?
I'd like to get receptionists and call center representatives excited about the difference they're making in their dental practices. Just like Starbucks instilled this sense of excitement and pride in a job well done among their baristas, I want to get dental team members fully involved. It's not just about profitability, but it's about making people's lives better. When that happens, everyone benefits. The dentist benefits, the team benefits, the patients benefit, and society benefits.
At Patient Prism, we don't just provide rapid training to teach team members how to better communicate with new patients; we also reward them when they do a great job. We have built-in metrics that generate certificates of excellence when team members convert a certain percentage of calls, and we show the potential new patient revenue associated with the services the patients requested on the phone. That makes the team members feel good, and it makes them feel valued when they can see how their efforts have a direct impact on the practice's success.
Q. I incorrectly assumed you relied solely on natural language processing and machine learning to process calls. In reality, while those tools automate part of the workflow, a member of the Patient Prism team also reviews each call. Please explain how this works and the benefits of such reviews.
While AI can do a lot, it's our experienced call coaches who provide the training tips for each new patient phone call that doesn't end in a booked appointment. Humans still do a better job than machines at that, and it keeps the comments highly-relevant and not cookie-cutter.
When data is both timely and relevant, it influences a positive change in behavior. Behavior change is the key to the success of any analytics platform. At Patient Prism, we measure our success in the impact our technology makes on enhancing the patient journey via positive changes in behavior of team members answering the phone.
Q. John Wanamaker, a pioneer in marketing, made famous the quote "half the money I spend on advertising is wasted; the trouble is I don't know which half." How does Patient Prism address this challenge?
Patient Prism is a call tracking and call coaching service. We know how patients are finding the dental practice based on the phone number the caller dialed, so we can tell dentists which of their marketing efforts are driving new patient calls. Then we can tell them which services the callers requested on the phone, the revenue opportunity associated with those, whether the callers booked – and if not, why not. That data lets them hold their marketing companies accountable because they can see that 20 calls came in from Google Ads, but only two were potential new patients – and only one booked.
It's so much more effective than just asking patients, "How did you hear about us?" Everyone answers, "Online." We can show whether it was from your Google maps listing, your website, your Google Ads campaign for dental implants, Facebook advertising, Yelp, etc. That way, dentists can allocate their budget to what's working and stop advertising on methods that aren't yielding results.
Q. I really appreciate the educational videos that you produce for the industry. If you could get any three people in the industry together in the same room at the same time, who would it be and what would you take the opportunity to discuss?
Wow, that a tough question. I've had the opportunity to have incredible conversations with so many people in the industry. If I had to get just three people together, I'd bring people with different viewpoints. One choice would be Steve Bilt, who I think has amazing ideas on how to implement culture in a large organization and get people excited. Margaret McGuckin, a partner with i3 Ignite and the former COO of ClearChoice Dental Implant Center, has an incredible way of solving problems with design-thinking. I'm constantly in awe of how she can get to the root of any situation, identify the path forward, and then create a playbook for repeatable success. For a third person, I'd add a doctor. I can't narrow that down right now, but it would be somebody who embodies the best in clinical and entrepreneurial excellence. I know several that fit this description.
Q. In healthcare, dental has been slow to adopt cloud technology. Why do you think that is?
A lot of the key technology players in the dental space were slow to introduce cloud-based technology as part of their offerings. But that's changing now.
Q. The migration to cloud technology is inevitable. Do you think dentistry will begin implementing it at a more rapid clip or continue the slow migration?
I think it will be at a rapid clip because there are some amazing companies out there that are moving very fast to make cloud services more affordable and more widely available.
By removing hassles of managing hardware and software, cloud improves productivity and allows dental teams to focus on patients. In the DSO world, cloud instantly facilitates integration and collaboration between offices. The data-warehousing capabilities of cloud data will have an immense impact on the next generation of analytics that is developed for the DSO space.
Q. Do you have any teasers on content you are going to syndicate through DSO News?
Our TV studio in Tampa has been busy! Brian Colao, Director of Dykema's DSO Industry Group, recorded a series with us about trends in the DSO industry – including some non-traditional models. Kevin Arnold and Diwakar Sinha of TUSK Partners shared their insights into group practice growth strategies and exit strategies. Executive recruiter Jon Fidler did a great series on hiring C-Suite leaders. A.J. Acierno, DDS, shared the growing pains DecisionOne Dental Partners experienced as it rapidly expanded and former Dental Care Alliance CEO Mitch Olan did a series on growing a DSO to more than 300 locations. Former ClearChoice Dental Implants Center COO Margaret McGuckin and her i3 Ignite business partner Kathy Lynn-Cullotta just recorded a series with us on what dentists need to consider as they're scaling up. Plus, we have so many other subject matter experts like Teresa Duncan, Kevin Henry, Rachel Wall, Judy Kay Mausolf, so we look forward to sharing their insights with your readers.
Editor's note: Below is an interview with Brian Colao that Amol speaks of. Amol and DSO News feel that as many people as possible should see these videos. To help spread the education, DSO News will begin syndicating content from the Patient Prism studio.
Join DSO News, Brian Colao of Dykema and Elicia Gibson of DSO Connection on Wednesday, April 24, at 2:00 PM EST for a complimentary webinar on transitioning your dental practice to a DSO. Click here to reserve your spot.