You're probably familiar with the role of a dental broker. Typically, brokers facilitate the buying and selling of a dental practice by handling administrative tasks, negotiating sales, and guiding dentists through the buying and selling processes. Brokers often charge commission fees of 6%, 8% sometimes over 10% for their service.
Now dentists seeking to sell their practices have an alternative to hiring a dental broker.
DSO Connection (www.DSOConnection.com )provides services that on the surface may seem like those of a traditional dental brokerage, though the company is not a brokerage – so there's no commission for purchases or for selling your practice. DSO Connection simply introduces dentists to buyers.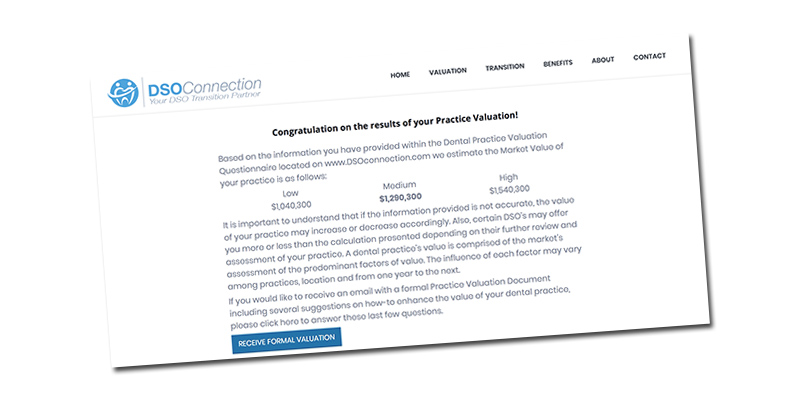 Connecting Dentists to Buyers
Dentists looking to sell their practice face a difficult task if they don't hire a broker. Dental brokers use tools like paid search, email, social media, and direct mail to find potential buyers. Dentists can do the same, but will it work? How much will it cost? Will a potential buyer be a financially qualified buyer? The questions go on and on.
Where can a dentist without a broker go to easily find reliable buyers? Until now, there's never been a directory or listing of large group practices (called Dentist Support Organizations or DSOs) or a website of other interested buyers.
The founders of DSO Connection has served dentists for 30+ years, in various marketing and educational capacities, and they offer just such a directory. The company connects dentists directly with DSOs and investment groups seeking to purchase dental practices….and Only Dental Practices.
Dentists can go online to complete a no-cost Dental Practice Transition Questionnaire to provide DSO Connection with information that will help them connect you with the right potential buyers – financially qualified DSOs looking to purchase a practice like yours, in your area.
In addition to the Transition Questionnaire, found on www.DSOConnection.com also offers a no-cost Practice Valuation Calculator. Instead of paying for a costly practice valuation, they use the same algorithms provided by the DSO's in this simple online calculator to determine what your dental practice is worth today. And, this website also provides you with resources that describe ways to increase the value of your practice.
DSOs and investors have significant capital and are well funded, so dentists who work with DSO Connection do not have to worry about their practice sale falling through at the last moment.
Brokers often charge a hefty fee for a practice sale and quite often, they want a $10,000-$15,000.00 Retainer Up-Front that is only refunded IF they sell your practice. If your practice sells for $800,000.00 – you'll pay the broker between $50,000.00 – $80,000.00. Independent dentists often spend decades building their practice and handing over 6-10% to anyone is a large chunk of the dentist's hard-earned cash. How does DSO Connection avoid charging sellers? By collecting a much smaller (1-2%) Success Fee from the buyers, not the dentist.
DSO Connections also partners with business professionals (law firms, CPAs, accountants, lending institutions) who aid dental clients throughout the sales process if/when needed. Whereas dental brokers maintain little control over the sales timeline, DSO Connection's long-standing and personal network of DSOs allows them to offer results in a more timely manner and to a considerably larger number of potential buyers.
What options does a dentist have when selling/transitioning their practice?
Dentists who work with DSO Connection are linked to a personal transition team expert. He or she will discuss the dentist's goals and desired sales timeline before introducing the buyer(s). Dentists can opt for transition, affiliation/partnership or joint venture. Here are a few options dentists have to consider:
Transition: DSOs are often willing to structure a transition in ownership that works with a dentist's personal and financial needs. Whether the dentist is looking for a quick exit for retirement or simply reducing their work as they ease into other interests or ventures, DSO Connection helps these dentists enjoy a smooth and predictable transition.
Affiliation / Partnership: A partnership allows a dentist to transition their practice over a longer period of time, while retaining an ownership percentage of their practice, and receiving dividends for their participation on the growth of the practice.
Joint venture: Dentists who already own & manage multiple locations can work out a joint venture deal with the DSO and share in the success of the multi-practice growth.
A New Twist
To sum it up, DSOConnection.com has developed a new twist on selling a dental practice. The company has:
30+ Years of Dental Market Experience
A Large Network of DSOs and Investment Bankers
A proprietary Dental Practice Valuation Calculator
Valuable Online Resources for Dentists
No Membership Fee
No Listing Fee
No Advanced Commitment Fee
No Broker Commission
Selling a dental practice is an important milestone for any dentist. Whether that dentist is moving, phasing away from the 40-hour work-week or retiring altogether, knowing their practice will be purchased by a trusted DSO or another qualified buyer can deliver peace of mind during that important stage of their career.
It is truly a seller's market. Let DSO Connection take the guesswork out of selling your dental practice. Simply fill out our Dental Practice Transition Questionnaire and/or the Practice Valuation Calculator and you will be connected with a qualified and interested buyer. You can also contact our transition team online or call (833) 376-3282.
About DSO Connection:
DSO Connection is a Division of DSO Market Watch, LLC. a leading provider of business intelligence on dental group practices. DSO Market Watch is also the creator of the DSO DIRECTORY and publisher of DSO News. The company also provides solo practice & group practice data & marketing solutions that help companies acquire new customers. For more information, visit www.DSOmarketWatch.com and www.DSOconnection.com
DSO Market Watch is a subsidiary of Dental Data Solutions, LLC and the publisher of DSO News.