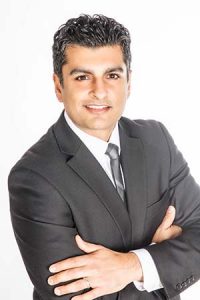 JB: Hello Dr. Choksey, thank you for taking time out of your busy schedule to speak with DSO News. Let's get right into it so that you can get back to your patients. How long have you been practicing dentistry?
AC: 16 years
JB: How long have you been affiliated with North American Dental Group (NADG)?
AC: 7 years
JB: Why did you decide to transition your practice?
AC: After creating a platform of centralized services to manage and operate multiple practices we quickly realized the cost was getting burdensome. It made complete sense to merge our practices into a larger group already positioned with a full suite of back office functions and allow me to continue to operate without all the extra work.
JB: What are the reasons you chose NADG?
AC: Having similar vision and alignment with like-minded individuals to create a best in class organization. This included optimal patient care, great clinical and operational leadership and back office excellence. We were the first group practice to affiliate with NADG with no precedence to work from but our similar goals of growing together is what made the decision to partner appealing. Also allowing our local brand to continue to operate with continual enhancements and growing more density in our local marketplace was attractive.
JB: I write a lot on culture in the dental practice and DSO. What part of the NADG culture do you enjoy most?
AC: I truly believe our culture is the backbone and differentiator for our organization. A culture of inclusivity, partnerships (professional and financial), collaboration and mutual respect with our colleagues. This is what makes this business enjoyable and fun to be a part of. Our biannual partner meetings is where our culture shines brightest through our interactions with partners and a shared purpose of bringing best practices forth.
JB: Since joining NADG, what have you found to be the top three advantages or benefits?
AC:
Having a centralized support team to lean on for the regional and local needs of the business. This has proven to be the most efficient way to operate over the years I have been a partner.
Being a doctor centric organization with a primary focus on optimal patient outcomes. Using our own Dental Advisory board and its various committees to create best in class clinical pathways for all doctor and their respective teams to operate from. Also, to be able to focus on growing doctors to become first class clinicians via mentoring and having support from Dentsply for educational opportunities to supplement this.
Allowing group-founder partners to continue growing their respective regional footprint via a joint venture model. This has been a huge benefit and attractive option for entrepreneurial doctors to continue doing what they have done to make them successful.
JB: And what were the three biggest challenges in the transition?
AC:
Having to convert practice management software twice in 3 years (we did so knowing that we were evolving to a better product that was customizable and scalable at the same time)
Preserving jobs for redundant positions post-merger. Fortunately, we were able to transition job functions and roles for many individuals who had created great value to the organization.
Having to increase communication to stay congruent with the larger group.
JB: How long was the process from initial communication to being fully affiliated?
AC: 8 months
JB: There are a lot of misconceptions floating around in the dental industry about DSOs. Did you have any misconceptions about DSOs before affiliating with one? If so, what were they?
AC:
Yes, having a top down approach with no inputs to create change management.
Equity highly skewed to the top (buy out and employ model).
Lack of control and lack of future growth opportunities within the organization.
JB: Please describe some practice changes that you had to get used to.
AC: Learning to let go of some of the operational management and trusting the team to handle it. Completing more comprehensive checklists to maximize data collection via new forms.
JB: Have you found those changes to benefit your practice today?
AC: Absolutely, these changes have directly influenced and strengthen my operational guidance with team members and allowed me to focus on delivering excellent patient care. Having a leadership team to partner with is much more powerful and efficient than trying to do things yourself.
JB: A huge advantage of affiliating with a DSO is that they take over the day-to-day business management of the practice. Has NADG been able to assist in this area and do you feel like you have achieved a better work/life balance?
AC: Yes, without a doubt. Having a high-powered team as your resource and creating an atmosphere for doctors to focus exclusively on patient care has allowed for optimal care and better outcomes. Also, the quality of business knowledge and quick access to information has reduced my time and cost to operate more efficiently.
JB: Which area of outsourced practice administration have you found most beneficial and what tasks were you able to outsource to NADG that helped you to free up your time most?
AC:
HR
Patient call center to handle calls effectively
Handling any patient grievances for doctors
Marketing and credentialing
JB: If you could make one change to the current DSO model, what would it be?
AC: Create a partnership model where everyone has skin in the game and working with the same purpose.
JB: What is your favorite thing about being affiliated with a DSO?
AC: Being surrounded with sharp and intelligent business leaders who understand how progress in an evolving landscape. Being nimble with action and creating real influence in the marketplace.
JB: Now that you have been a part of NADG for 7 years, what are the three biggest surprises (good or bad) that you had not anticipated during the transition?
AC:
The JV program for entrepreneurial (group founder doctors) to continue building their legacy powered by NADG.
The partnership program for associate doctors and operational directors to make a career at NADG.
Participating at a high level to create influence both regionally and companywide on the parts of dentistry I enjoy most.
JB: Is there any advice you have for someone like you considering transitioning to a DSO?
AC: Have an open mind and know that this will be the start or new chapter of your career and not the end.
JB: I greatly appreciate your time today, Dr. Choksey. It was a pleasure speaking with you and I wish you continued success.
---
Interested in knowing what a DSO may pay for your practice? Use our complimentary practice valuation calculator and be matched with DSOs looking for practices just like yours in 40+ states and adding.