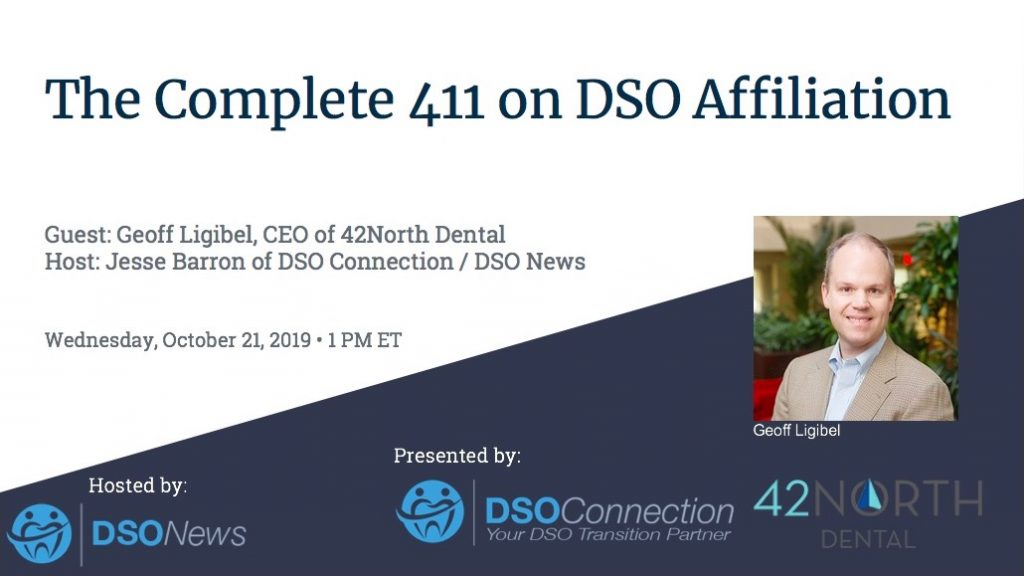 Attend this complimentary webinar to get the following and more:
How DSOs value practices and current price trends
Learn about different affiliation models
Pain points in transition and how to avoid them
The benefits of a geographically focused DSO
How to maximize your practice for sale and transition
WEDNESDAY
OCTOBER 23, 2019
LOCATION: ANYWHERE
1 PM ET (12:00 PM CT, 11:00 AM MT, 10:00 AM PT)
About Geoff Ligibel:  
Mr. Ligibel is the President and CEO of 42 North Dental, a leading dental support organization (DSO) with more than 70 affiliated locations in New England. Since joining over 5 years ago, he has led rapid growth at the Company, building and partnering with practices in Massachusetts, Connecticut, New Hampshire, and Maine.  
Mr. Ligibel was previously a Director in Houlihan Lokey's Healthcare Group. During his career, he helped establish a very active portfolio of DSO clients that he helped advise through dozens of transactions, while also executing transactions in various other healthcare sectors such as physician groups, hospitals, pain management clinics, healthcare IT, outsourcing, and distribution.  
Mr. Ligibel graduated summa cum laude with a B.S. in Accounting from Ohio State University. He is a Certified Public Accountant and holds the designation of Chartered Financial Analyst.