Bankers Healthcare Group, a firm providing financial solutions to dentists, recently revealed the results of their 2018 survey of the concerns of dentists.
The firm surveyed 413 licensed dentists and revealed that the most widespread concern amongst dentists is the patients ability to pay for services. This was top of mind for 88% of survey respondents.
Dentists were asked to indicate other concerns with their practice and 86% expressed concerns about practice revenues, and 80% sweeping the categories of managing practice finances, patient acquisition, and keeping up with technology advancements.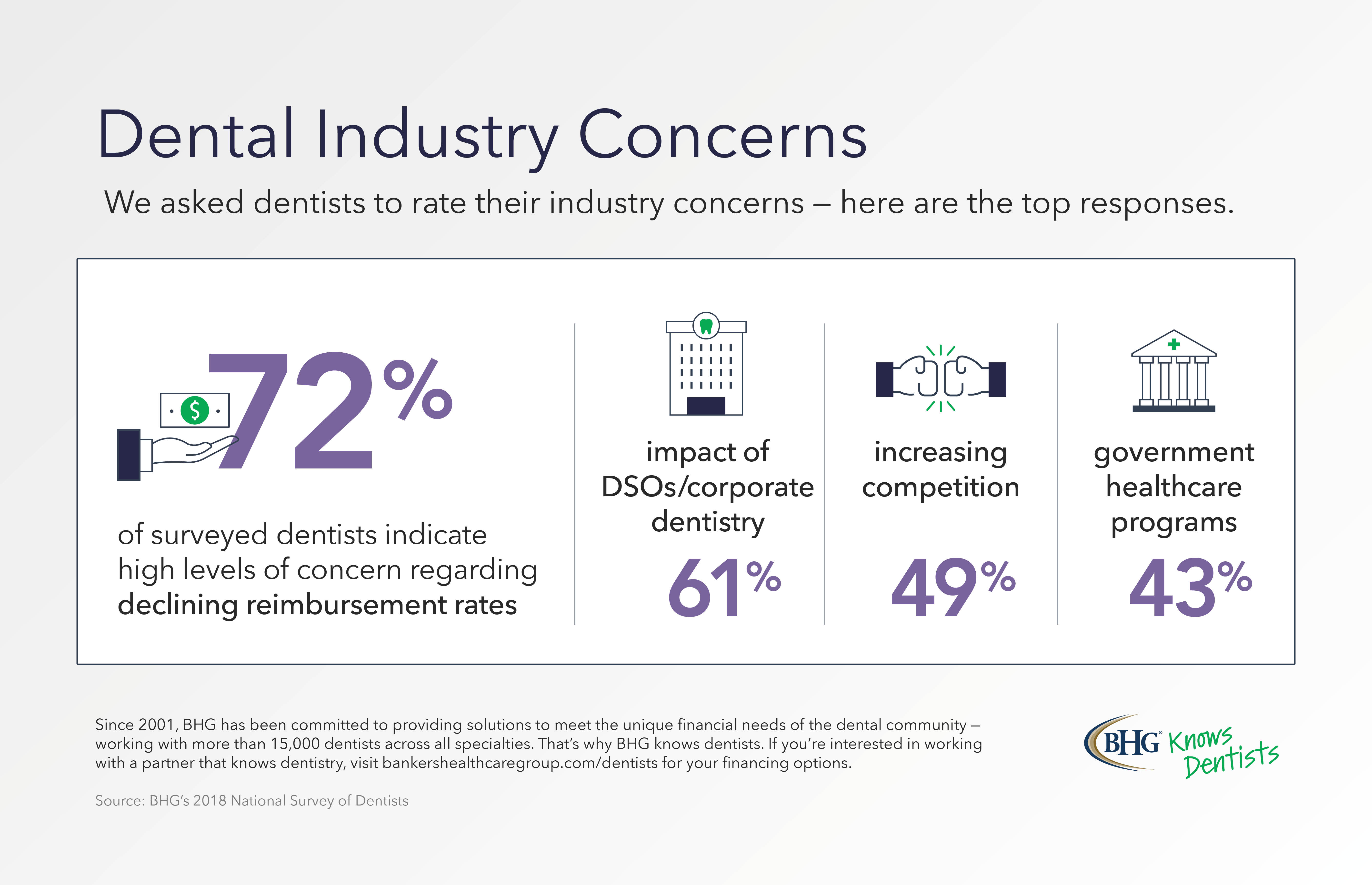 Dentists were also queried on their concern about the impact of DSOs. It was less of an issue with younger dentists (42%) and was more likely to be a concern among those with practices in suburban areas (71%).
49% of dentists are also highly concerned with increasing competition in the industry. This was expressed as a higher rate for dentists practicing in urban areas (53%) or suburban location (51%), as well as those aged 35-49 (54%).
43% of respondents are highly concerned about government healthcare programs. When it comes to government healthcare programs, younger dentists (51%) are the most concerned, as well as those working in an urban office (48%).
It is not all bad news. Indeed, far from it.
48% of surveyed have migrated to electronic health records. 31% are currently expanding their marketing efforts. 30% have purchased new equipment and 29% are upgrading practice technology.
Looking forward to the next year, 24% said they plan to upgrade practice technology and purchase new equipment, while 23% plan to invest more in marketing. Of the types of equipment respondents plan to purchase, 52% said x-ray machines, 30% responded with operatory chairs and 24% planned to purchase scanners.
Interestingly, general dentists are more likely to purchase a new x-ray machine, while intent to purchase chaise is more common amongst specialists such as orthodontics, pediatric dentists and oral surgeons.
---
Bankers Healthcare Group will continue to release results of their survey over the coming months and DSO News will be sure to report their findings.